Please contact Hooked on Adventures at 888-295-HOOK (4665) for booking your exotic Peacock Bass Fishing Adventure.
 Deposits are due upon booking, at which time you will receive an online, or hard-copy, booking packet. You must return the Angling Trip Reservation Form completed in its entirety, along with initialing the back page (Terms and Conditions). Please include the face page of your passport information, along with a copy of your current Brazilian visa if one is already in place.
Passport and visa assistance is available if you so desire, instead of doing it yourself, and our office can refer you to an affiliate expeditor for your convenience.
Preferred method of payment are bank checks or money orders. However, should you wish to pay by credit card (Master Card or Visa), you should also return the completed credit card payment form, however this will have a 3% fee for all credit card transactions.
All forms can be faxed, or scanned/emailed to our office, however, prior to your trip, the original hard-copies must be direct-mailed to our office at:
Hooked on Adventures, LLC
P.O. Box 5576
Fresno, CA 93755-5576
Your non-refundable deposit secures your desired week of fishing.
Payment in full is due "no later" than 60 days prior to departure.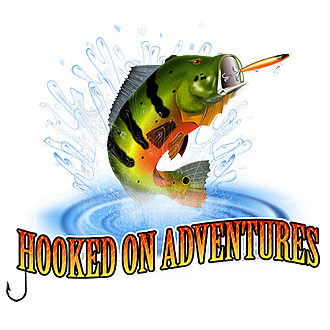 Give us a call. Make your reservation today!
(888) 295-HOOK (4665)