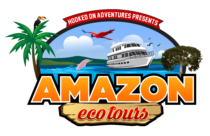 Explore the Amazon of Brazil
The Brazil of Your Dreams…
Take a journey with Hooked on Adventures into the heart of the Amazon Rainforest aboard our luxurious fleet of custom made, live-aboard yachts. Whether you are an avid eco-tourist or someone who wants to check this amazing adventure off your bucket list, this is the "Trip of a Lifetime" for you!
The unparalleled service we bring will begin when you are met at the airport by our English-speaking staff. Every moment of your week's adventures will be catered for you. Our ultimate goal is to offer you, our guest, an unforgettable adventure into a mystic land of wonder and awe, whether you are on the Yacht enjoying the superb cuisine prepared by our chefs, the appetizers and drinks served by our Maitre d', or one of the stunning tours our seasoned guides will provide for you.
Our itinerary includes the most exotic destinations of the Amazon, catering to all of your travel desires. Experience walking in the Rainforest, exploring the renowned Anavilhanas Archipelago, spotting caiman at night and dining on pristine and secluded white sand beaches. After immersing yourself into the cultural life of local people, breathing deep the essence of the Rainforest, and seeing the beautiful and rare wildlife of the Amazon, you will come to know the majesty of the Rainforest.
To learn more about this extraordinary adventure, visit our Eco-Tour website!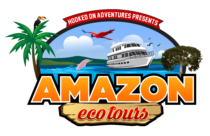 Give us a call. Make your reservation today!
(888) 295-HOOK (4665)