About The Adventure
The plan behind the trip of a lifetime
…a narrative.
You will depart your home airport in the morning (perhaps even later in the day depending on your home airport) and arrive at Miami International Airport during the mid-afternoon. Your flight to Manaus will then leave approx. 5:00 pm and you will be in Manaus approx. 10:05 pm.
The Day of Arrival in Manaus
Once you land in Manaus you will be met at the airport terminal by an English speaking staff member. They will transfer you to the Quality Inn Hotel, Manaus where you will spend the night. The next morning, you will be treated to a delicious Brazilian breakfast and then transferred to our charter airport in Manaus. Here you will board a short one hour charter flight to Barcelos where the yacht staff is awaiting your arrival.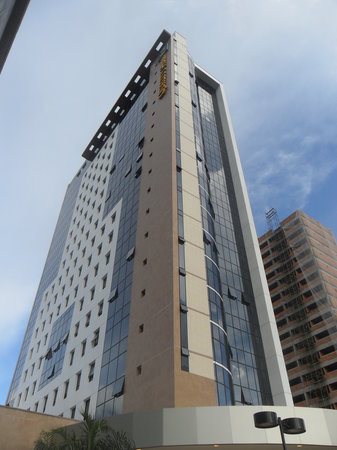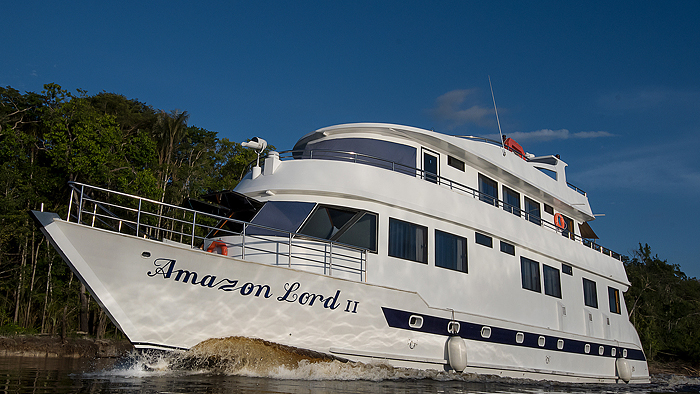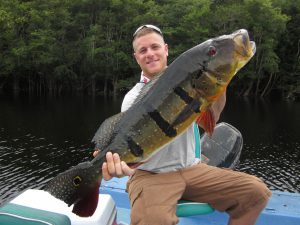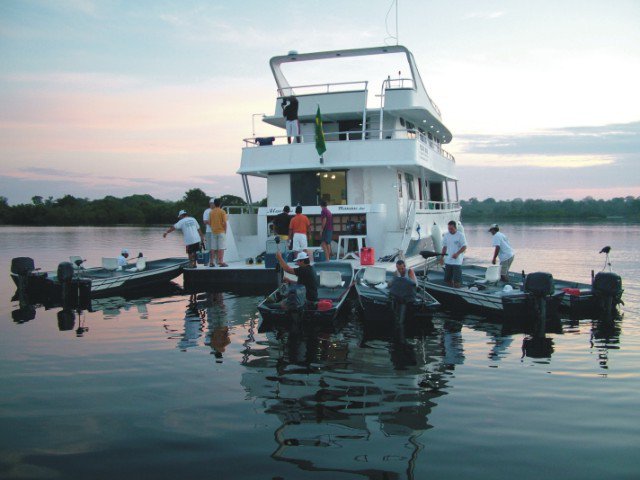 All Aboard For the Trip of a Life Time
Once aboard the Amazon Lord you will enjoy world-class accommodations, first class service, and gourmet foods, as you and your fellow anglers sail off to the best fishing either side of the equator.
All You Can Fish for 6 1/2 Days!
Wake up every morning to a gourmet breakfast with the knowledge that in a short time you will be out on the open water experiencing heart-pounding Amazon fishing like nowhere else.
Departure
Wake up every morning to a gourmet breakfast with the knowledge that in a short time you will be out on the open water experiencing heart-pounding Amazon fishing like nowhere else.
Departure
After your last day of fishing you will once again spend the night on the yacht. The next morning our staff will assist in getting you packed up and transferred to the local airport. You will be flown back to Manaus where you have the option to reserve a day-room at the Quality Inn Hotel, Manaus. After your day of city-tours, or resting, the group will have a farewell dinner at one of Brazil's best churrascaria restaurants, Bufalo's. After dinner you will be transferred to the airport where your flight back to Miami will leave around 12:00 midnight. You will arrive into Miami Airport at approx. 5:30 am and then board your flight back to your home airport. You should be back in your living room by late afternoon on Sunday.parture
Give us a call. Make your reservation today!
(888) 295-HOOK (4665)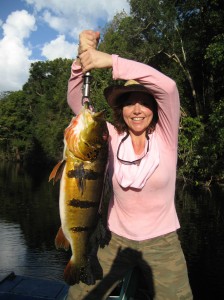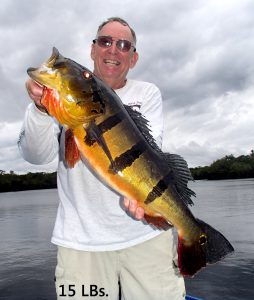 Pricing
Our all-inclusive Amazon Peacock Bass Trip of a Lifetime is only $5495 per person for the 2019-2020 season
Deposit Required: A deposit of $1,500 is due within 10 days of booking, in order to hold your reservation.
Your Hooked on Adventures Trip Includes:
Greeting at airport and ground transportation per regular schedule.
First night hotel stay in Manaus. (per regular schedule)
Last night hotel stay in Manaus. (per regular schedule)
Transportation – either by boat or charter plane service.
Semi-Private rooms at our facilities (per two anglers).
Fully Air-Conditioned Rooms.
Daily Laundry Service.
Daily Maid Service.
Delectable meals of both American and Brazilian foods served with choice wines.
Regional cocktails, hors d'oeuvres, soft drinks, fruit juices, bottled water, beer and wine.
We reserve the right to limit the number of alcoholic beverages consumed by each client when health or safety issues are involved.
Guided fishing (two anglers per boat).
Guide operated boat, outboard, trolling motor and cooler.
All hard non-disposable tackle including: rods, reels, top-water, and, sub-surface lures
*The yacht manager will have hand-tide jigs for sale as they are extremely popular with the Monster Peacock Bass*
Not Included:
Fees associated with obtaining your passport or visa.
Fees associated with pre-trip medical planning, travel insurance, and medications.
Domestic air or ground travel from your home city to Miami.
International airfare to Manaus, Brazil.
Fees associated in sport fishing areas.
Gratuities to staff personnel.
Personal expenses in Manaus, i.e. shopping, meals, and city tours.
Overweight luggage charges from the airlines or charter flights.
Fly fishing gear.
Airport departure taxes (if applicable).
Hotel stays (if necessary) in Miami.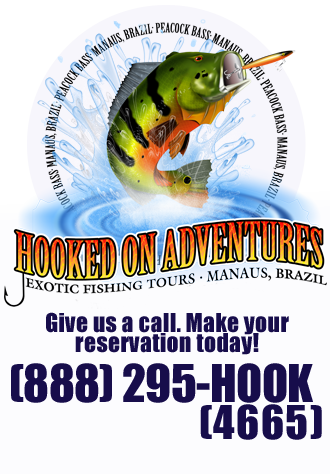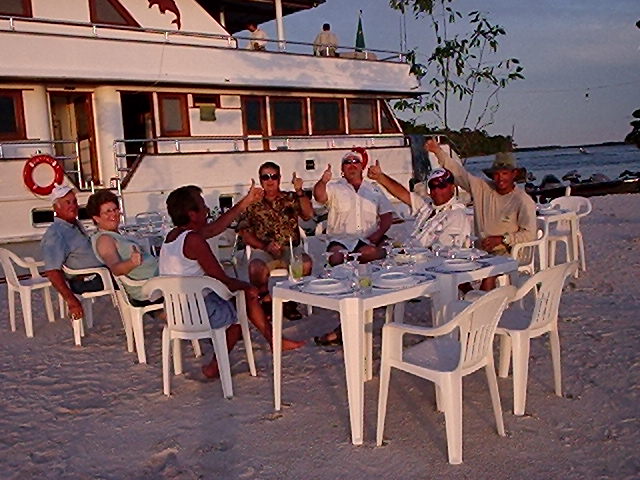 FAQ
Frequently Asked Questions
Is airfare included in the price?
Fishing packages are all-inclusive "except" for commercial airfare to Manaus. Once you arrive in Manaus, all chartered flights are paid for by Hooked on Adventures.
How many guests does the mother ship accommodate? Do I have to reserve the whole vessel?
Built to our specifications, the Amazon Lord accommodates a maximum of 20 guests. The Belle Amazon holds 18 guests per trip. Sometimes the entire vessel is booked for a week by a large group, but we are pleased to accept reservations when space is available for individuals, small groups, couples, and families. Many of our tours are comprised of several small groups (two, three, and four in a party) who often become friends after their shared experiences.
How far in advance should I reserve a week on the mother ship?
Hooked on Adventures enjoys a high repeat clientele rate. Because of this, and the fact that we have a limited season and space, we recommend reserving a year in advance. Many of our guests reserve a space for next year immediately after completing the current year's trip. Please call to check on available space at any time, however. Also note that sometimes we have an opening or two that we can offer at a special price on relatively short notice.
How far in advance should I make airline reservations?
You should make airline reservations as soon as you select a week and send in your deposit. DO NOT WAIT UNTIL THE LAST MINUTE. Direct flights from Miami, or Atlanta, to Manaus are very limited, and the planes usually fly full. Also, you'll need to leave several hours between your arrival in Miami, or Atlanta, and your departure for Manaus (the same applies on the home-bound leg), so the sooner you make air reservations, the more likely you'll get flights with good connection times.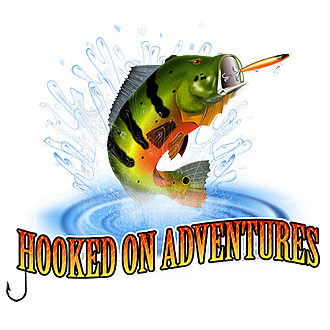 Give us a call. Make your reservation today!
(888) 295-HOOK (4665)