FAQ
Frequently Asked Questions
Here are answers to the most commonly asked questions. If you can't find an answer here, feel free to ask, by calling or using the handy form provided.
Trip Information
Click on a question to find an answer.
AMENITIES
BOOKING
FISHING
FOOD & BEVERAGE
GENERAL
ESP (ENVIRONMENTAL SERVICE PAYMENT) – EFFECTIVE SEPT. 2010
MEDICAL
PACKING SUGGESTION
RECOMMENDED TIPPING POLICY
TRAVEL
WEATHER
---
FAQ Answers
Is there laundry service on the mother ship?
Yes. We have daily laundry service on the mother ship. There's no need to pack excessively.
Is a deposit required with my reservation?
Yes. This is customary at top resorts, camps, tours, hotels, etc. Deposits are due upon booking, and payment is due in full 60 days prior to departure. Your deposit guarantees the week that you desire to fish.
Is airfare included in the price?
Fishing packages are all-inclusive "except" for commercial airfare to Manaus. Once you arrive in Manaus, all chartered flights are paid for by Hooked on Adventures.
How far in advance should I reserve a week on the mother ship?
Hooked on Adventures enjoys a high repeat clientele rate. Because of this, and the fact that we have a limited season and space, we recommend reserving a year in advance. Many of our guests reserve a space for next year immediately after completing the current year's trip. Please call to check on available space at any time, however. Also note that sometimes we have an opening or two that we can offer at a special price on relatively short notice.
How far in advance should I make airline reservations?
You should make airline reservations as soon as you select a week and send in your deposit. DO NOT WAIT UNTIL THE LAST MINUTE. Direct flights from Miami, or Atlanta, to Manaus are very limited, and the planes usually fly full. Also, you'll need to leave several hours between your arrival in Miami, or Atlanta, and your departure for Manaus (the same applies on the home-bound leg), so the sooner you make air reservations, the more likely you'll get flights with good connection times.
How many guests does the mother ship accommodate? Do I have to reserve the whole vessel?
Built to our specifications, the Amazon Lord accommodates a maximum of 20 guests. The Belle Amazon holds 18 guests per trip. Sometimes the entire vessel is booked for a week by a large group, but we are pleased to accept reservations when space is available for individuals, small groups, couples, and families. Many of our tours are comprised of several small groups (two, three, and four in a party) who often become friends after their shared experiences.
Do I have to schedule the charter flight?
No. We make those arrangements as part of our service and at no extra cost. We also escort you to and from the plane.
What are the luggage weight restrictions for the charter flight?
35 -40 Lbs. total luggage weight per person on the charter flight. While commercial airlines may allow more, you will need to keep it under 40 Lbs. for all legs of the trip because of the charter flight limitation as there is no place to store extra items once you arrive in Manaus.
What is the maximum number of luggage pieces allowed per person?
Two (2). Maximum weight for both bags combined can be no more than 35 – 40 Lbs. One bag is preferable.
Can Hooked on Adventures reserve my flight?
Although Hooked on Adventures would be more than happy to assist you with your flight details, we ask that you check with your local travel agent for any type of group rates that may be available. Call our office to inquire about departure and arrival times to schedule your trip to Manaus.
Where will I be fishing in the Amazon?
The term "Amazon" is widely used to refer to the enormous rain forest region of northwestern Brazil through which the Amazon River flows. The best fishing for Peacock Bass, and especially for large specimens, is found in clear, but dark (tannin-stained) waters, which are referred to as blackwater. There are untold numbers of blackwater rivers in this region, the largest of which is the Rio Negro, which merges with the Amazon River 11 miles downstream of the city of Manaus. We start our season in early September on the Madeira River and its tributaries. The Madeira River is a tributary to the Amazon River. In late October, we move upstream of Manaus to fish on the Rio Negro River. We're talking about an immense area that includes countless tributaries, isolated lakes, and hidden lagoons. The region we fish is a few degrees south of the Equator; however, some of our clients have actually ventured up northern tributaries to the Rio Negro and determined (thanks to a portable GPS) that they have crossed or actual fished on the Equator.
What do I catch?
The primary fishing interest is Peacock Bass, but as you may have read, the Amazonas region of Brazil is home to more than 3,000 freshwater fish species, and there's no telling what you might catch depending on where you are, what you use, and how hard you try. Among the other species that most people get excited about are arawana, an acrobatic leaper known locally as "monkey fish"; traíra, an aggressive bowfin-like species; piranhas, which come in various species and sizes; payara, which has two lower-jaw fangs; and assorted catfish species, some of which grow to gargantuan size. As a general rule, if you want large Peacock Bass, fish with large, noisy surface lures. If you want to catch lots of Peacock Bass, fish with smaller lures (and flies). If you want to catch a variety of species, fish with smaller and more diverse lures.
When is the fishing season?
We fish on a weekly basis from late August through the end of March. Christmas/New Year's specials are available.
When is the best time?
Unlike some places you may have visited, there is no particular advantage to being one of the first visitors each season or one of the last, because we always go where we think the fishing is best at that given time. In general, August through March is when water levels are low (or as low as they are going to get); high water disperses fish into the flooded forest, so it is preferable to fish when the water is low. However, conditions are not identical each year on the same calendar date. We usually fish downstream of Manaus early in the season because the water levels are at their best at that time, and upstream later in the season.
What do I catch? How large are the Peacock Bass?
If you read the information supplied by fishing outfitters all over the world, you'll notice that they just about all claim to produce big fish. Some claims are very extravagant. The Rio Negro area that we fish produced the current IGFA all-tackle world record Peacock Bass (27 pounds) in 1994, and it is generally considered to have the best Peacock Bass fishing in the world. Although at this time, and it has not been certified, a 28 lb. Peacock Bass that was also caught on the Rio Negro River could very well be the new world record as it stands now. Each week this river regularly produces Peacock Bass of 20 pounds and over to some of our anglers and to some anglers fishing with other tour operators, however, we can't promise that you will do this. On some weeks our groups catch more than a dozen fish that weigh 20 pounds or more. However, some weeks they catch only (1) 20-pounder, and on a few occasions they have failed to catch a 20-pounder. It is rare not to catch a Peacock Bass that weighs 15 pounds or better. You do not have to be the most accomplished angler on the planet to have success. One time the biggest fish of the week was a 25-pound peacock that was caught by a woman who was accompanying her husband and who did only a little bit of fishing. Whether you catch a 12-, 15-, 17-, or 20-pounder is all relative to your own attitude, and we know that you'll be thrilled with the challenge and the fight of these spectacular fish no matter what. What we can promise, is that we'll take you to the places that we believe offer the best opportunity to catch big Peacocks, which is why we fish the areas that we do. Keep in mind that your guide is very experienced and will be able to take you where you'll have more opportunities to land that "fish of a lifetime"!
Can I bring any fish home?
We practice catch-and-release and our guides are not permitted to let clients kill a fish. We release 99 percent of the fish we catch, including all of the big Peacocks. We do keep a few small fish for occasional meals, prepared by our Chef on the ship. Incidentally, Brazilian authorities no longer allow visitors to take fish out of the country with them. Furthermore, in some of the areas that we visit, under Federal, state, local, or indigenous-tribe permits, we are specifically prohibited from keeping our catch. So, we encourage you to bring a good camera to record your catch. If you want to have a replica mount made, we can refer you to taxidermists who have done excellent work for our clients. Replicas last much longer than skin-mounted fish anyway.
Do guests fish from the mother ship?
During the day, guests fish from our 18-foot, American-designed, custom-made bass boats powered by 4-stroke Suzuki outboards, as well as large front and rear casting platforms. These boats come equipped with bow-mounted electric trolling motors, as well as VHF marine radios. Two anglers can fish comfortably from these boats, accompanied by their guide. Every boat leaves the mother ship with a good supply of cold beverages, which is essential in this climate. You may return to the mother ship at midday for lunch, or stay out through the day and return in the evening. On occasion, catfish may be landed at night from the deck of the mother ship, provided that it is anchored in a suitable location; if so, guests are encouraged to try their luck.
Will I fish with a guide?
Yes, you'll have one of the best Peacock Bass fishing guides in Brazil. We have a well-seasoned guide staff, many of whom are related to each other. They are personable native Brazilians born and raised in the regions in which you will be fishing. They are excellent boat handlers who make a determined effort to assist you in catching fish. All of them understand a sufficient amount of English. Guides are assigned two anglers for the week.
What is there for a non-angler to do?
We often have guests who do little or no fishing. You may relax with a book in our air-conditioned lounge or on the upper deck while the other guests are out fishing. You can watch videos in the lounge about the Amazon and its wildlife. If you like, we'll take you for a ride and Eco-culture trip, perhaps visiting a local village where you may be able to acquire native crafts. Our mother ship manager and crew will be happy to go along and provide local insight. As you cruise along lush waterways and smooth clean sandbars, freshwater dolphins are your companions and often provide close encounters.
Do you have fishing gear that I can use?
Please see our tackle package page… here
Who pays for meals at the hotel?
You are responsible for your drinks, meals, and incidental expenses.
Do you serve fish for dinner all week?
No. Thanks to our five-star Chef, as well as his experienced staff, we serve excellent food on both yachts. The Brazilian-theme menu is diverse and features fresh meats, vegetables, fruits, and fish, served with fine wine. Fish is served as an optional entree during the week, and this can be increased or decreased as you desire. Many of our guests rave over the tambaqui, tucunare, pacu, and catfish when we serve it (we often buy or barter it from local people). If you inform us of any dietary needs in advance, we'll do our best to meet them.
Do you have bottled water to drink?
Yes. We provide bottled water in your stateroom, while fishing, with meals, etc., and always have a plentiful supply. Our guides fill their coolers with ice, bottled water, and other beverages of your choice every time they leave the mother ship to go fishing. We urge you to drink plenty of water during your stay.
Can I eat outside of the hotel?
We can recommend a good restaurant, but we suggest that you do not eat outside street- or market-vendor food.
How many guests does the mother ship accommodate? Do I have to reserve the whole vessel?
Built to our specifications, the Amazon Lord accommodates a maximum of 20 guests. The Belle Amazon holds 18 guests per trip. Sometimes the entire vessel is booked for a week by a large group, but we are pleased to accept reservations when space is available for individuals, small groups, couples, and families. Many of our tours are comprised of several small groups (two, three, and four in a party) who often become friends after their shared experiences.
What's the bug/insect situation?
It's great; we often serve them dipped in chocolate mint sauce. Just kidding about the sauce, but the insect situation is usually so good that many of our guests never put insect repellent on during the week. That seems contrary to what you might expect in the rain forest, but the fact is that we usually don't go traipsing in the rain forest, but stay in the boats to fish. The blackwaters that we fish do not provide, or foster, abundant aquatic insect life. If you need insect repellent, it would most likely be to ward off an occasional "no-see-um-like critter" on shore. Bring it just in case, but you probably won't need it.
Can I brush my teeth with tap water?
We suggest that you use bottled water, which is provided in your stateroom.
Do both men and women go on your trips?
Yes. Perhaps 20 percent of our clientele is female, many of whom accompany their spouse, significant other, or father. Some are avid and accomplished anglers (including some members of the women's professional bass fishing circuit), some are casual anglers, and a few do not fish at all. We've had weeks when half of the group is comprised of women, and we've had weeks when there was only one woman or no women in the group. There is nothing about this trip that a woman can't do and enjoy. The main concerns expressed by women are: having a private bath (which every room on the mother ship does); dealing with bugs (not a problem as noted elsewhere); going to the bathroom when you're fishing (our guides want you to be comfortable so when you say the word they'll find a safe place to take you ashore); and having decent food ("decent" food is not good enough for us and we'll do better than that). Since we have the premier mother ship in the Amazon, we insist on providing comfort to all of our guests.
Does the mother ship travel at night?
It travels whenever necessary to move to where the fishing is good, or better, and we try to move when it will not interfere with fishing activities. Often, the mother ship moves for a few hours in the evening and through the dinner hour once everyone is back from fishing. It is capable of moving up to 100 miles in an evening, which we'll do if that's what it takes to get to a better fishing area. Sometimes, the mother ship moves during the day while guests are out fishing, and meets the guides and guests at the end of the day (the guide boats have VHF radios). We strive to let you enjoy the solitude of the evening in the rainforest, including a restful night's sleep anchored on a quiet peaceful sandbar. If we have to move long distances, we may do so at night, depending on where we are, water levels, etc. Both yachts draw less water than other mother ships, so we can often go places others can't, and we can travel through shallow areas at times when others don't. When we travel at night, guests often enjoy sitting on the top deck and focusing the powerful beam of our spotlight up and down the river, searching for the occasional set of caiman eyes.
Do I need a converter for electric outlets on the yacht or at the hotel?
No. The ship is fully equipped to handle your electric needs, as is the hotel.
Will I be able to reach my office or family while on the mother ship?
Yes. Hooked On Adventures is very customer-service oriented, and will have a satellite phone onboard at all times to call home or for emergencies. There is a small fee of approximately $3.00 U.S. per minute for usage. Some of our guests bring a satellite phone with them, and you are welcome to do so, although it is not necessary.
Is it safe on the mother ship, and in remote areas?
Our clients can feel very safe on the mother ship and our crew is vigilant on a 24/7 basis. We have not had safety issues on the fishing boats. Although the U. S. State Department warns that terrorist groups may operate along the Colombia-Brazilian border, that area is far beyond the region that we normally fish. Likewise, we have not had personal safety issues while fishing in, traveling through, or visiting areas inhabited by indigenous people. We can assure you that we obtain every necessary permit to travel, and fish, wherever we go. In some cases, our crew members have gone into villages to obtain permission from local people to visit their area for a specific day or days. If we don't have a permit or direct permission from villagers, we move on. Our guides know exactly where we can and cannot go, and they observe this. In this respect, as with other aspects of our business, our service and tours in the Amazon are unsurpassed by any other outfitter or guide.
How much cash should I bring? Should I bring traveler's checks?
You probably will not need more than $400 cash per person, most of which will be used for tips and some specialty shopping. Traveler's checks are not necessary, and should not be given to your guide or the boat staff. The hotel and most stores, accept credit cards. You can use U.S. dollars for tipping, or, if time permits, exchange dollars for Brazilian currency at Miami International Airport.
What if I don't speak Spanish or Portuguese?
Portuguese is the primary language in Brazil; some Spanish words are similar to Portuguese words, so knowing Spanish might help a little. Hooked on Adventures will provide you with a translation card for your convenience in your booking packet. Our staff members who meet you at the airport, and our mother ship manager, speak English, so you'll be fine even if you don't understand or speak either of these languages.
ESP FAQ
Does the Newly-Imposed "Environmental Service Protection" (ESP) Fee, when fishing the Barcelos area, pertain to us?
YES. However, this particular fee is only being imposed in Barcelos.
Is the Recently-imposed ESP fee for anglers considered a Fishing License?
No. Your fishing license is paid for by Hooked on Adventures. This fee is entirely different and pertains to the conservation, preservation, and environmental quality of the area of Barcelos. The obtained resources will be destined to provide support for the communities, improve monitoring and regulation of fishing activities, research, and tourism infrastructure in Barcelos.
Are the ESP fees for Owners of Boats, Hotels or Operators?
No, the law is not for operators, owners of hotels, etc. It only applies to individuals engaged in sport fishing including Brazilians "outside" of the Barcelos County. Residents of Barcelos County are exempt from the ESP.
Will Sport Fishing Anglers older than 65 have to pay as well?
Yes. The fee is for everyone, even Brazilians fishing these grounds. Please note that when the angler enters the Tourist Information Center to retrieve his identification wristband, he/she will be escorted by our Boat Staff, or Boat Manager. Also, please make note that anglers 65 or over will be prioritized. Each time a 65 or older angler enters a Tourist Information Center, they are served first, in case there is a long line to register. At this time, everyone must enter the Tourist Center. Wristbands will be issued per person as payment identification. Your wristband must be on your wrist so it can easily be identified by others. There are only a few exemptions to this in which would be a medical reason.
Must we "wear" the wristband, or can we keep it on our person and show it when needed?
Yes, you must wear it on your wrist where it can be seen. The last thing you would want to happen is to have an official that monitors this keep you from a full day of fishing that you have paid for.
What is the cost of the "ESP" fee at this time?
The cost of this mandatory fee is approximately $112 – $138 U.S. dollars. Please contact Hooked on Adventures, or your Agent, for exact cost on the date of payment. Exchange rate variances apply. For your reference, the Brazilian currency is the "Real" (pronounced Reh-Al) or the plural of same is called "Reais" (pronounced Reh-eyes or Hey-eyes).
How is the amount of this fee determined?
The fee is calculated on a daily basis, however, customers purchasing a fishing package will pay one payment, per angler, for their entire fishing week.
Will the mandatory ESP fee be tax deductible for anglers?
Yes! That is what our office and our Brazilian management team has been told. Of course, it is up to you, and your accounting system of tax-deductible items that you account for at year end, if you prefer to write a separate check for this or not.
What happens to those caught breaking this ESP law? What are the penalties?
The SEMA, in Barcelos and other competent authorities of the County, will be in charge of the legal proceedings.
How do I pay the fee?
There are two options: (a) You may register and pay online via PayPal from the http://www.peacockbassbarcelos.com website. To do this you must already have your Fishing License. Also, YOU MUST BRING THE PAYPAL RECEIPT WITH YOU TO GET YOUR WRISTBAND, OTHERWISE YOU MAY BE REQUIRED TO PAY IN CASH A SECOND TIME>>>DO NOT FORGET YOUR RECEIPT. (b) You may also choose to pay in cash in person when you arrive. Bring at least $150 cash with you for this purpose.
Where can I read more information about the ESP?
http://www.peacockbassbarcelos.com
Will I get motion sickness on the mother ship?
To the best of our knowledge, none of our guests have ever gotten motion sickness on our ships. It is highly unlikely because the boat is extremely stable, the Amazon River and its tributaries are normally very calm, and you are always within close proximity to land.
Do I need shots or pills to visit the Amazon?
The Brazilian government, and the U. S. Center for Disease Control, recommend that visitors to Brazil from North American countries, especially to the Amazon region, have a yellow fever vaccination. It is not required, however, unless you have been in certain countries prior to visiting Brazil. It is also recommended, but not required, that you take an antimalarial drug. While these recommendations may seem a bit alarming, note that they are precautionary advisements. Most of our guests get a yellow fever vaccination (good for ten years), and roughly half of them take an antimalarial drug (available through prescription) as a precaution. Check with your health care provider and local or regional infectious disease center for more information. To read about current U.S. State Department travel warnings and public announcements, including travelers health advisories, see www.travel.state.gov and www.cdc.gov/travel/tropsam.
What should I bring besides fishing gear?
A pair of compact binoculars will help you get a closer look at wildlife, and, of course, a camera adds to the special moments and memories. Our guides have fish grippers and scales, but you might bring a pair of sure-grip gloves for holding the fish for photos. Some people like to bring a handheld GPS, and some bring a compact handheld sonar, but neither is necessary. DO NOT FORGET YOUR SUNSCREEN. We also recommend a lightweight, wide-brimmed hat, tropical clothing, and perhaps fishing gloves. Click here for a detailed list of suggested items you may want to take on your trip.
What is the recommended tipping policy for guides and Yacht Staff?
The Guide service fee is recommended for each guest at approx. $30 per guide/ per day or approx. $200/ per guide per week (6 – 6 1/2 fishing days).
Recommended yacht staff service fee is a minimum of $200 per guest for the week, and is divided between the entire yacht crew. The crew includes the captain, cooks, waiters, etc.: all non-guide personnel. In addition to gratuities, you will need to bring travel money for your personal day in Manaus, as well as for souvenirs and gifts. If you feel that a particular staff/guide member has provided exemplary service to you and wish to provide an additional gratuity, please feel free to offer it to them personally.
How do I get to Manaus?
Fly from your home city to Atlanta (Delta) with a connecting direct flight to Manaus/Brazil (approximately 5 hours).
Does someone meet me in Manaus?
An English-speaking representative for Hooked on Adventures will meet you as soon as you clear Brazilian Customs. Our representative will transfer your luggage to our van.
Where do I meet the mother ship?
The mother ships go where the best fishing for Peacock Bass is. Prime fishing areas change according to time of year and water levels, which is why a moveable live-aboard mother ship is far better than a permanent land-based lodge. The mother ship will be several hundred miles south on the Madeira and you will take a short flight from Manaus to Autazes, or it will be several hundred miles north on the Rio Negro and you will take a short flight from Manaus to Barcelos or Santa Isabel. The flights are between 40 and 90 minutes long. We'll put you on a chartered plane (at no extra cost), and take you from the final airport to the mother ship, which leaves immediately for the best fishing areas. The mother ship returns to the same port six days later.
Do I need a Brazilian visa?
Yes. Brazilian visas are required and can be obtained easily through Brazilian consulates. When you make a reservation, we'll send you an updated information sheet about where and how to apply (it changes from time to time).
What happens when the mother ship returns to port?
Depending upon your airline carrier, you will either be immediately transferred to the airport to await your departure to Miami, or you can enjoy a personal free day in Manaus, then transferred to the airport to await your departure flight back to Atlanta. We can also help you make arrangements for your personal day, at your expense, to tour this historic city, including a visit to select markets, zoo, and the famous Opera House. Please check with our office to see what other historical sites are available.
How hot does it get in the Amazon?
Not as hot as if you were fishing on a midsummer day in many southern areas in North America. It is a humid heat, however, as befits the tropical rainforest. Temperatures are delightful in the morning, and cool enough that some of our guests wear a light windbreaker for the morning high-speed bass boat ride. At midday, however, you'll enjoy a high-speed boat ride to help cool you off. It is common to be soaked with perspiration in the early afternoon hours due to heat, lack of wind, and humidity. Despite the popular image of the Amazon as a region of blistering heat, temperatures of more than 90 degrees F. (32 degrees C.) are rarely experienced there. In fact, the annual average temperature in the Amazon region is in the range of 72-79 degrees F. (22-26 degrees C.), with only a small seasonal variation between the warmest and the coldest months.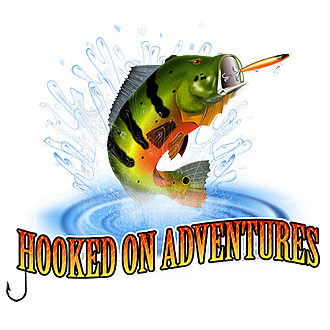 Give us a call. Make your reservation today!
(888) 295-HOOK (4665)