Fishing Information
Tackle, bait and what you need to know in planning your adventure. Tackle.
Avoid the airline's recent extra fees for overweight bags, weight restrictions, and additional luggage! Although you are most welcome to bring your own tackle along with you, rest assured that we offer a complimentary tackle package for each of our clients including Bait Casting Rods, as well as Spinning Rods. Our tackle packages also include all the favorite lures used for catching these Monster Peacocks. Keep in mind, that with the recent airline fees for extra luggage and overweight bag fees, carrying tackle can become very costly. There is no need in paying these extra costs, not to mention the burdon of carrying it around with you. 
Soft-baits and hand-crafted jigs are available through our on-board tackle store for a minimal fee. Peacock Bass Conventional Tackle Equipment List
Peacock Bass are considered one of the hardest-hitting and most aggressive game fish in the world! Explosive top-water strikes are their "claim to fame". Landing Peacock Bass will require using tough equipment. To give you the advantage, we are providing this "tried & true" equipment list for Peacock Bass fishing.
We recommend the following for fishermen bringing their own Peacock Bass tackle:
Rods
Casting: 3+ Medium-Heavy to Heavy Action 6'6″ – 6'9″ rods. NOTE: Best Rods also have a long handle. When retrieving a large prop-bait, such as a Big Game Woodchopper, it is best to position your rod butt on your hip to gain leverage and assist in pulling the bait through the water. Short aggressive jerks allow the prop-bait to throw more water and attract more strikes!
Spinning: You may fish for peacock bass with spinning equipment if that is what you are comfortable fishing with. Bring 7 ft. Medium-Heavy rods with good quality light-saltwater reels lined with 50-60 lb. braided line. To be honest, the casting rod's stiffness, cast-ability, accuracy, and balance make it a much better choice for peacock bass fishing. The Amazon is the perfect place to learn and master bait casting techniques; the days are beautiful, the fishing is hot, and you will be rewarded for your efforts.
Reels
Casting: Good quality, strong drag, fast retrieve ratio (6.0:1-6.3:1). We recommend:
Top of the line: Revo SX or STX bait casters as well as: Shimano Curado, Chronarch, or Calais.
Less expensive, but still capable: Pflueger low profile Trion or Abu 6500 C4 in a 6.3 retrieve.
Line: 65 or 80lb braided fishing line made by Power-Pro.
Lures
Large Prop-Baits: Large prop-baits were specifically designed for peacock bass and other species that really "turn-on" to a bait that causes a big top-water commotion. The large prop-baits are the best lures available for bringing big peacock bass to the surface.
Our main choice of large prop-baits:
Highroller Propeller Baits. These come in sizes of 5 1/2, 6 1/2 or 7 1/2 inch models.
The colors we prefer are Perch Fire Tiger and Black/Orange. In addition, the Clown and Red/White head will at times produce good strikes.
Small Prop- BAITS: The smaller prop-baits (called the Peacock Special) will raise peacock bass and are easier to retrieve than the larger prop-baits. Bring one off each of them in Black & Orange, Blue and Fire Tiger.
Jerkbaits: 2 – 3 large 7′ or medium 6′ Redfins (chrome with blue dorsal), also Bomber Long-A lures, 6″, 2 each, in white body with red hair or silver flash with blue back.
Rat-L-Traps: 2 Chrome/Blue black or Fire Tiger color in 3/4 or 1 ounce size.
Other: 4 Bucktail jugs in 1/2 ounce, white color works best. These lures may be purchased on line from either Bass Pro Shops or Cabellas.
Most baits are available in our on-board tackle shop!
Do not hesitate to call us if you have any questions regarding the proper Peacock Bass fishing tackle to bring or any other aspect of your trip to Brazil!
Peacock Bass – Fly Fishing Equipment List
Peacock Bass love to hit big flies! The good news is that on the average, an experienced fly fisherman will land more peacock bass than an equally skilled fisherman using casting equipment! The fly fisherman's peacocks will be slightly smaller in size, but larger in numbers. The peacock bass that will normally hit a fly are in the 2 – 8 pound range; although 10 – 20 pound fish are often taken, and the world record (all tackle) on the fly is a 24 pound peacock! While fishing for peacock bass, you will need to bring heavy-weight fly fishing rods and fish with large streamers and top-water poppers.
Below is a list of recommended fly fishing equipment for peacock bass:
Rods: Fly rods should be from 8wt – 11wt, with either a 9wt or 10wt being the best weight if you are only bringing one rod.
Reels: Good quality with a strong drag and capacity for a lot of 30 lb. backing, designed for the weight rod you are bringing.
Line: Any good quality floating, weight forward, line will work best. I prefer to use a shooting head system because peacock bass are definitely not line shy. If you are bringing a second rod, I recommend a 5ft. #6 sinking-tip line for the second outfit.
Leaders: A very quick and easy method is to simply cut a 5-6 ft. section of 40, 50, or 60 lb. "hard mono" and tie it on as a straight-leader. If you are interested in fishing for line class records for peacock bass, you will need a leader with a heavy butt section, followed by your IGFA approved line class section between two Bimini twists, ending in a 20lb., 30lb., or 40lb. fluorocarbon tippet. Be sure to check on the current IGFA record for the line class that you are fishing, so you will know if a record breaking fish has been caught.
Flies: Peacock bass flies should be tied on large sharp, 3/0-4/0 hooks. Peacock bass will hit top-water poppers, but large streamers will produce more strikes. All colors will attract peacocks to strike, especially combinations using yellow, green, red, olive, and blue. Smaller 3″-4″ streamers are easier to cast and will produce a lot of strikes from fish in the 2-6 pound range. For really large peacock bass, you will need to fish with a streamer that is from 5″-8″ in length.
Recommended flies for peacock bass:
Streamers
Wool flies (or can be tied with Bozo hair)
Rabbit tail slider
Deceivers
Poppers
Dahlberg divers
Foam poppers
Another excellent week on the Amazon! Sand Flats were visible the water was so low. We certainly had a great group of anglers this week. Total Fish = 940 Fish 10lbs or bigger=98...
read more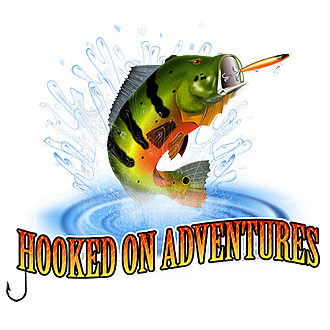 Give us a call. Make your reservation today!
(888) 295-HOOK (4665)