Trip Date Sept. 24th
David McCarthy, an avid angler and Owner/Operator of Hooked On Adventures, couldn't have chosen a better operation as he takes over the Santana Fleet. Our fishing trip aboard the "Belle Amazon" yacht finishes with 1619 Amazon Peacock Bass.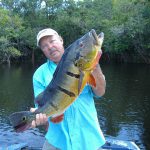 The numbers speak for itself: 1619 Peacock Bass up to 24.5 lb. caught by Bob Irwin from Ocala Florida. Our group was a total of only 9 anglers, and we caught 19 over 20 lb. and 158 over 10 lb. with several ranging 15- 19 lb. Most of the bigger Peacock 's were caught on the larger top water plugs. They just love the sound of those ripping props. The 3-8 lb. peacock's were caught on Zara Spooks, jerk baits and feather jigs.
In addition to that, their famous Bartender and gracious host, "Harry", greeted us with an ice cold juice and regional drinks to quench our thirst after a exciting, hard, and hot day of fishing. It was complimented by delicious meals prepared by Gourmet Chef Euelides with the help of our ladies Hildete & Mara. Our air-conditioned rooms were cleaned daily, and our laundry was done for us as well!
Like I have mentioned for the past 10 years, this outfit has the best guides in the Amazon and the service onboard the "Belle Amazon" and the "Amazon Santana" is second to none. Like I always say , " When you're on a winning horse, why get off it?" Dave, I know you will have great success in you new venture, and I will do whatever I can to help you make it happen.
The one thing I can tell you is this "Once you come onboard the Santana and experience their guides and entire crew, you'd better be saving up for your next trip, because you will want to return "sooner" than "later"!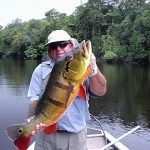 Capt. Frank Carbone
Florida Peacock Bass Guide
HawgHunter Guide Service