As you know my son and I just returned from your Amazon Peacock Bass fishing trip hosted by Bill And Linda Fuchs. I wanted to take a minute to tell you what a great experience we had. Over the course of the trip. Our guide, Zebedo, was very helpful and allowed us to do as much or as little as we wanted. How he could find his way around the channels of the Rio Negro still stymies my imitation. The accommodations and food were great! We enjoyed so many wonderful experiences, but I would like to mention a some of the more memorable ones. The shore lunch, shore dinner, daily breakfast and dinner with the rest of the group, cocktail hour swapping stories of the days. Lastly, a word about your boat staff. The rooms were well kept, and the daily laundry service was terrific and helped keep our packing to a minimum. The cooks were great! I must mention Harry. Probably the most accommodating person I was ever around. If we needed anything, all we had to do was turn around and he was there. He made the trip so much more enjoyable for us.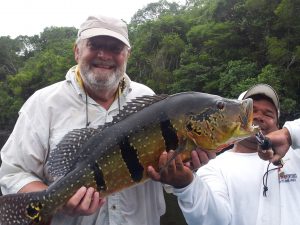 Larry and Zebedo with his trophy Peacock Bass.
If you want the trip of a lifetime, and enjoy fishing, book this trip! I am including a picture that says it all. MY MONSTER PEACOCK BASS!!!