Our adventure started in Manaus. Going through customs was a breeze. Paula met us at the airport dressed in her Hook On Adventures gear; she was hard to miss. Our luggage was loaded on the chartered bus on off to the hotel we went. We had a wonderful view of the Amazon river from the room. We had our very first Caipirinhas in the friendly bar. This like a mojito, but it's made with Brazilian rum and the mint leaves are omitted. Mmmm…so refreshing. That first night we ate at a real Brazilian BBQ open air restaurant. There were so many dishes to choose from, and they all looked so very fresh. We woke up and had a great buffet breakfast before hopping on another chartered bus that took us to a regional airport. We got right on our small airplane and slept the hour-ish trip to Barcelos. I regret not having more $1 bills because there were several ladies out selling their handicraft jewelry. I bought some really cute gifts for friends, family, and myself.
We met Tony at the airport, and he got us on a bus that took us to the Santana. That night we had a great dinner and had more Caipirinhas (thank you Harry!!!). We were also assigned our guide for the week, and was told that wake-up call comes early at 5:00 am. We were also given an opportunity to buy one-ounce buck-tail jigs for $6 each. I highly recommend the red and yellow bucktails. They were quite popular with the Peacock Bass.
If you want a hot breakfast, please get up while the coffee is hot. The Brazilian coffee shames Starbucks. The chef let me watch her make the coffee. She actually boils the grounds and then pours the coffee through a cheese-clothe type filter into an insulate dispenser. We always had scrambled eggs, cheeses, tons of fruit, bacon or sausage, and more. Now it was up to us as to when we wanted to go fishing. My husband, Kerry, and I opted to get right out for the early fish. Arnoldo, our guide, must have been born with a natural GPS and fish-finding system. He always got us spot-on.
We fished our hearts out the first day. Arnoldo would put us on a spot and would recommend how to catch the fish he seemed to sense. Sometimes he told us to top-water fish with these 7-inch lures, cast with the jigs or troll with the jigs. Just how do you do that, Arnoldo? The chef had packed a cold lunch for us, but we opted to return to the Mothership at 11:00 to shower and eat. We had a cold beer with our sandwich and had a hardy nap. We were back out to fish at 1:00. We were excited about the 19 fish we caught on our first day, and I was especially excited about the 9 pound Peacock that I caught. That was, until we saw a fellow fisherman who had just caught a 12 pounder!! Bummer. They were packing it up to head back to the Mothership, and my 9-pounder wasn't that impressive to me anymore. I admit – I got the fish pout. Arnoldo must have picked up on that – it needs no translation. Next thing you know, my hook was stuck on a stump. Arnoldo started yelling "Big Fish, Big Fish." OMG. It was! I pulled a fighting 15-pounder out of the water.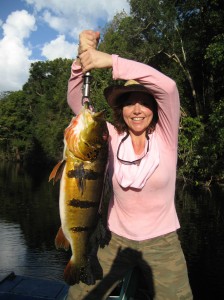 What a beautiful fish!! The head on that fish was big, if not bigger, than my head – and I have a big head. I took a few pictures with my fish and felt my ego restored. I was so happy to see blood on the top of my hand ; I had a bass bite from holding the fish with my bare hand. I couldn't wait to get back to the boat to share my battle wound!
~Laurie Rowan~ Eglin AFB, Florida